A Quick Guide to Camping Fire Safety
The Necessary Steps To Properly Build and Extinguish A Campfire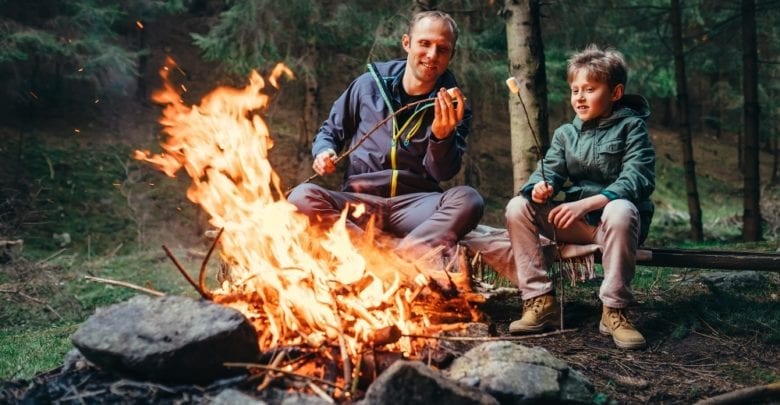 One of the best parts of camping having a roaring, warming campfire. But did you know that campfires are one of the leading causes of wildfires in the U.S.?  It's important to know how to build and extinguish a campfire safely, and to remind campers they need tools such as a shovel when they're doing it.
In the following list of detailed procedures you will learn the safest and most prudent way to go about building a campfire and then putting it out fully. While some of these steps may seem obvious to you as an experienced  camper, there is always something to be learned about fire and its danger.
#1 Fire Restrictions
Before you build a fire, always check for fire danger in your area. If there are notices restricting campfires or the fire danger is "high," "very high," or "extreme," then don't build a fire! Notices like these exist for a reason. You can see up-to-date notices on websites like this.
#2 Always Use Fire Rings
If there are no campfire restrictions and fire danger is low to moderate, build your campfire in an existing fire ring instead of building your own. If you're not camping at a campsite, collect and stack a circle of heavy rocks around your intended campfire location before lighting a flame.
#3 Own A Fire Shovel
If you're building your own fire pit, choose an open area, far from overhanging brushes, dense grass, and trees. Use a quality fire shovel like the DMOS Stealth shovel to clear away dangerous brush, dry needles, and other flammable vegetation away from the area before lighting a flame.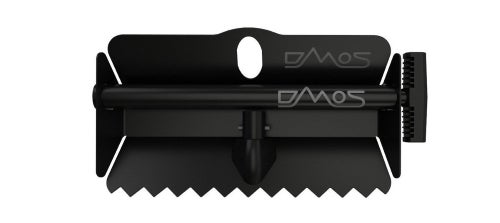 #4 Limit Your Fire Size
Don't make your fire any bigger than you need to. While a big flame can be exciting, fires can easily blaze out of control.
#5 Identify Water and Dirt Nearby
If your fire starts to get out of control, put it out. Always make sure you have water and dirt nearby to kill the flame if necessary.
#6 Stay Close
NEVER leave your campfire unattended. Even if the wind is calm, your fire is small and you've built a tall ring of rocks around your pit, natural elements are unpredictable and fire can jump from place to place with just a little push from the wind.
#7 Plan Ahead For Your Exit
Extinguish your campfire at least 1/2 hour before you plan to leave.
#8 Break Down Smoldering Wood Chunks
By planning ahead, you should have burned down all the coals to ash. There should be very few chunks of coal left and no partially burned wood. If there are, use a fireproof shovel, such as the DMOS Stealth shovel, to break the coal chunks down further into halves.
#9 Stir Burning Wood Before Extinguishing
If you are extinguishing a burning fire rather than hot ash and coals, first use a fire safe shovel to stir the wood and ash. This is to extinguish the flames as much as you can.
#10 Use Water To Extinguish When Possible
Sprinkle water over the coals. If they are hot, this will cause a lot of steam mixed with ash so avoid standing directly above or downwind of the fire. You may want to move your gear too.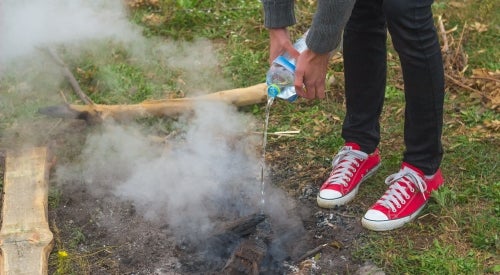 #11 Stir Wet Coals
Once you have wetted down all the ash and coals, use a fireproof shovel to chop and stir materials together.
#12 Wait For All Steam All To Dissipate
Continue to sprinkle water and mix carefully until no more steam rises and you hear no hissing steam.
#13 Wait 10 Minutes
Let the fire area sit for 10 minutes. Use this opportunity to get more water.
#14 Feel For Remaining Heat
Feel the area for hot spots, hold the back of your hand close to the ash, but not in it. Feel around for heat spots.
#15 Verify The Campfire Is Cold
If everything is cold, you can move to the next step. If there is still heat, sprinkle more water and stir again.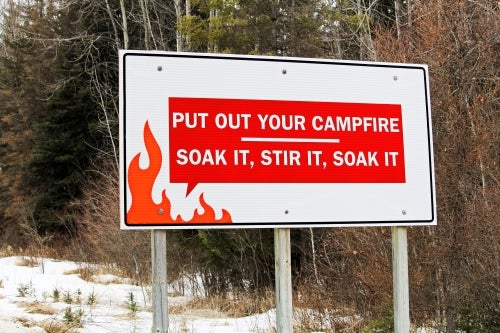 #16 Dispose Of Ash
Once you feel no heat, the ash can be disposed of by doing the following…
#17 Collect Coals And Ash
Scoop all the coals, ash, and partially burned wood into a bag using a fire-safe shovel.
#18 Spread Coals and Ash In The Woods
Carry it far out into the woods and spread it around.
#19 Or Disperse Coals And Ash Off-Trail
Or, carry it down the trail a 1/2 mile and then disperse it far off the trail.
#20 Scatter Unused Wood
Scatter unused wood back into the surrounding woods or leave it nicely stacked if this is a high-use established campsite.
This procedure works for established campsites in organized parks, as well as primitive campsites on state lands. While every step above may not be applicable to your specific campfire, it's a good best practices checklist for extinguishing all campfires.
We hope this article has been helpful to you and for more information about campfire safety see LeaveNoTrace.org.
And always be safe on all your camping trips.
Notice: Outside Pursuits is a participant in the Amazon Services LLC Associates Program, an affiliate advertising program to provide a means for sites to earn advertising fees sold through by advertising and linking to Amazon.com. Amazon offers a small commission on products sold through their affiliate links. Each of your purchases via our Amazon affiliate links supports our efforts to bring you the best possible product reviews at no additional cost to you. We appreciate your support here at OutsidePursuits.com
---